Home Decor Interview:
Connie from "Living Beautifully"
If Connie from
"Living Beautifully"
comes across as happy and loving life, that's because she is. And by listening to her, you'll come to appreciate your own life and be happier too, because Connie's positive attitude is infectious!

Connie is a stay-at-home-wife by choice, having left an extremely successful corporate job in Silicon Valley for the brave new world of Boise, Idaho. By all accounts, it was the best move she ever made. Not only has it led to a more stress-free life, but she also has more time to do the one thing you and I love most: decorate!

On her
"Living Beautifully"
blog, Connie documents her daily creativity, with enjoyable results and it makes for a fun read. Please take a moment to meet Connie and learn more about her life and background; you'll be glad you did!

---

1. Hi Connie, thanks for joining us today. Please take a moment to tell us about yourself and your blog, "Living Beautifully."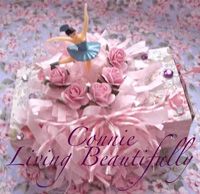 I've been married to a wonderful husband since 1961 and we have 2 adult children and 4 grandchildren. We lived most of our life in California until we decided to leave for a less stressful lifestyle here in Idaho about 18 years ago now.

In 1989 we survived the SF earthquake and couldn't find each other for several hours. That brought me to the realization of how much we needed to get out of there and how much I valued my husband. I was the highest paid woman in a Fortune 500 company that at that time was about 59 in the 500. My husband worked for a large computer related company and we lived a very good life. But our decision has never ever been regretted. We love our life here.


2. You also have a selling blog called, "La Maison Rose." Please tell us more about this; are they all products made by you or do you also sell other people's products?

I started La Maison Rose to get rid of some of our belongings. LOL When we moved to Idaho we bought a huge 5,000 square foot house on a hilly acre. After several years we decided to move from that small town to a larger town closer to Boise. I determined that small town life was definitely not for me. Plus we wanted a smaller yard as we aged. We sold enough stuff to furnish a house plus we DID just about furnish our granddaughter's apartment in Washington state. So I though I'd get rid of some more stuff.

I don't sell anyone else's items, just my own. If I don't get rid of some stuff in this 1,800 sq. ft. house I'm going to have to add on and trust me, hubby isn't going to let me do that. But I dabble in crafts and then once in a while I'll try selling them or some of the hundreds of books I have. Lately we've started giving a lot of stuff to the thrift stores just to scale down a bit. I love being busy and crafty and decorating my home.




3. You used to live in the San Francisco Bay Area, and now you call Idaho home. How did you adjust to this culture change, and do you ever miss California?

I miss my kids in California but our daughter might be moving up here soon. I love California; it was home to us for many years. But now I am in love with Idaho. Adjusting to the culture change was a bit overwhelming but we're used to it and Idahoans have accepted us very well. I do know that small town life isn't what I pictured it to be and love our town of about 85,000 people. I'd much rather be a small fish in a big pond than a large fish in a small pond. I love my anonymity!

And lots of big stores are coming to the Boise area now. I'm not a big shopper but I love dining out. Feed me and I'll follow you anywhere. Actually, the first year up here a friend would send us boxes of sourdough bread because there is nothing in this world like the breads we could buy there.




4. Congratulations on being able to stay home. Without the burden and pressure of working for someone else, what do you enjoy doing at home during the day? Does this allow you to spend a lot more time on your passion of decorating? Do you miss the corporate world at all?
I have many passions: decorating, crafting, reading and computers. I absolutely love my computers. We have 5 just for the 2 of us. When we travel my MacBookPro goes with me and hubby takes one of his. I miss nothing about my corporate life.

I love being home. I love taking care of my hubby and having dinner ready when he gets home. You don't live with someone for 48+ years and not know their idiosyncrasies. A testament to my man is that he has put up with me for 48+ years.

Actually, I worked far less when I worked outside of the home. I am never, ever idle except when I'm reading a book. I'm always doing something in my home. I've never been happier than I am at this time of my life.
5. One of the blog posts that touched me the most (and others too, as evidenced by the increased number of comments you received) was when you posted close-ups of your beautiful face. This was a bold move that I don't think most women would have the courage to do. You also voluntarily pointed out physical features that you're unhappy with, which again goes against the norm of most women. What inspired you to make that very refreshing, courageous post, and what was the reaction like from your readers?
Wow! I didn't think of myself as brave. You've just made me cry, sugar! Yet I AM a very brave woman. I'm a woman of faith and hopefully, love, morals and character. The world needs more women of faith, those who aren't afraid to speak out honestly and be soft and yet strong. There is too much coarseness in this world; we need more kindness and compassion.

I have a very tender heart yet I'm a hoot to be around. I'm a very passionate woman and a bit intense to be around. I'm opinionated. BUT I'm happy with who I am. I'm striving to be the very best I can be. I don't believe in the kind of beauty magazines are talking about. I believe most in the inner beauty of a person. That might sound trite in today's world, but we are all children of a loving Heavenly Father and when the world sets the standards, we suffer. I think I was trying to simply say to women: be your sweet self and don't let someone else's view of you deter you from your divine goal. I am happy with the way I look and it took a long time to come to that realization.

6. You have a lovely home, and readers can see pictures of it online that you posted. It's as if each decorative and personal item has its own story to tell, and you deserve to be as proud of your home as you are. Of all the rooms you've decorated (including that terrific laundry room makeover!), which is your favorite, and why?
Thank YOU! It's just a very simple home put together with love. Most items in this house have a story to tell, from the little liberty bell and bird my son bought me on a trip to Philadelphia and the little straw basket he made when he was a boy scout to the hooked rugs and embroideries my daughter made for me.

The laundry room is my favorite. I tried to show how even the lowliest room in a house can be beautiful when you put your mind to it. It didn't take much at all to decorate it. Since I have to spend time in there it might as well be gorgeous. That's how I feel about everything in my life. If I have to live with something it might as well be beautiful. We see very young couples buying beyond their means all the time to "impress" others. I don't need to impress anyone. I simply feel blessed to have a home without a huge mortgage.
7. You're obviously a very creative person, and it shines through your website. How long have you been blogging, and how have you enjoyed the experience of sharing your creativity with the whole world?
I think I've been blogging about 3 years now. I absolutely LOVE blogging. It's a creative outlet for me. Actually, today brought it home to me when a fellow blogger contacted me and asked for some help with her blog. I help a LOT of bloggers out there. Here is the quote in my email to her:
After my main purpose for each blog (thoughts, musings, etc.) my focus is on the reader. Font, photos, ease of viewing. I've a very visual person and have to have it as perfect as I can get it.
I'd rather be blogging than just about anything else in this world. The composing, the photography, the editing of the photos and the text....all of it. Like many other bloggers I put my heart on the line out there in blogland. My goal is to make the blog a celestial, happy and serene place for the viewer to be. Wit helps me a lot as we are a very humorous, funny and witty family.

8. Where did you learn your arts and crafts skills, and how would someone reading this go about learning how to acquire or improve their own decorating skills?
I am obviously more comfortable in the corporate environment as I was very good at what I did. Crafting was something I discovered in the early 80s. I simply needed a stress reliever and something to do at home after hours spent in an office. One day while sitting in my office I just wanted to be home baking cookies!

Yes, that is absolutely the truth. That epiphany changed our life. I quite accidentally discovered crafting and knew I'd found something I loved. It has evolved over the years from country style to a shabby romantic relaxed style but I don't see myself changing from this. It is a style I love more than any I've ever seen.
My advice to anyone would be to find a decorating style you love and then "perfect" it. Identify your style and then refine it so to speak. Look at pictures of real homes in magazines, not the mansions; although, you can look at them and have an idea come into your mind of a less expensive variation of it to make it work for you. I've done that in just about everything I've done in decorating. You do not have to spend a fortune to have your home lovely, not at all!
The decades of our lives are always different. What we do in our 20s will certainly be different from our 40s and 60s. I'm speaking from experience and everyone who is younger than me has agreed with this.

---
First of all, congratulations to Connie on a whopping 48 years of marriage! That is quite an accomplishment, and we're very happy that Connie is enjoying her life so much.

Please take a moment to check out Connie at "Living Beautifully" and sample some of her creativity yourself. As always, thanks to Connie for giving us a terrific interview!







Return to Decorator Interviews

Return to Decor Medley Home